Miniature Golf Course Styles
Castle Golf Course Styles
THEME DESIGN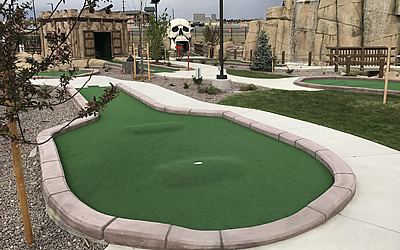 Classic
The Castle Golf Classic Courses
The classic Adventure Golf courses continue to target the total family experience. This is to say that they combine holes that certainly require skill and challenge for the best scoring, yet incorporate a number of novelty elements including the design of the "intentional luck" hole. We know that courses can be too challenging for children, thus frustrating and discouraging, and therefore taking away a key customer. There are many examples of owners disappointed by courses that are too challenging. "Challenging" can be a dangerous and misleading buzzword. So frequently, it is the children that provide a strong motivation to play the game again if they have had a successful and satisfying experience.

To provide this type of course requires careful hole design, more precise forming and finish. These are the courses that provide the children with the opportunity to score a hole in one just as easily as the adult. Thy typically offer two or more paths to the cup with a distinctive difference between these paths. In many instances, one path appears to have a "luck" factor, the other the skill play. The need to leave the course with a sense of success and a feeling that "this has been fun" is critical to maximizing revenue and getting those children to push the adults to return.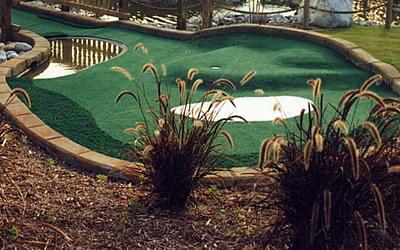 Sport
Castle Golf Sport Courses
The original purpose of the Sport Course was to provide a combination of appearance and play that presented a "Golf Course" look. This was from an architectural look on the golf course with the use of natural rocks, rugged timbers and ropes, rock-faced retaining walls, sturdy bridges, etc. The holes took on the multiple carpets, enlarged in a meaningful way; and the Perma-Curb system that looks like heavy cut stones was added.

These are the holes that also used the multiple carpet treatments. This means that in addition to the standard length carpet, in selected areas use is made of long green shag for rough, and long white/tan carpets are used to simulate sand traps.

These golf course styles are often well received by driving ranges and people who see miniature golf as a skill game more so than as family amusement or entertainment.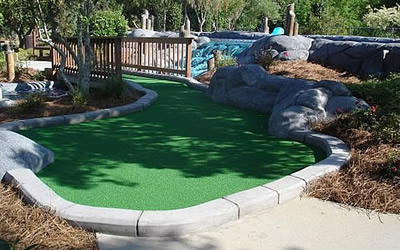 Hybrid
Caslte Golf: The Hybrids
Several years ago we began to see the benefits of bringing certain desirable elements of the Sport Course to the Castle Classic course. The "brawny" features such as heavy duty poles and ropes; bold sculptured rock on all water ways; and the trouble free Perma-Curb system are now used generously throughout all Castle Courses. Sturdy bridges and steel reinforced concrete golf course holes, walkways and waterways have always been part of the Castle approach; one reason why 30 year old Castle courses are still be played throughout the United States.

At the same time as we were incorporating selected Sport Course elements, prospective Sport Course owners began to see the wisdom of incorporating a few novelty elements into the overall tone of the Sport Course, thus broadening the customer base to include more children. Common examples would be water shot holes and various drop holes.

When two 18-hole courses are being built, some have made use of each style to good advantage.
Indoor Miniature Golf Courses
Based on the inquiries we receive at Castle Golf, the interest in indoor miniature golf has quickened. A variety of factors appear to be fueling this increased interest.

The development of the black-light courses suitable for small indoor spaces; the stronger interest in large indoor Family Entertainment Centers, a concept that continues to develop in one form or another; and the more traditional notion that if we had a place to play miniature golf all year long there would be year round revenue instead of the seasonal play associated with outdoor courses.

On the surface, these all seem to be reasonable. The response to these inquiries usually goes something like this:

"Tell me about your vision… who is the customer that you wish to attract? How much space do you plan to dedicate to the course? Will you have other attractions that will be part of the facility? How do you plan to promote?"

"The reason that I raise these questions is to get you to consider the implications and differences between indoor miniature golf course design and outdoor miniature golf course design. Yes, I understand that you saw the people lined up at this course in the mall, and yes, I understand that the winters are long in Minnesota."

"Have considered the obstacles to a long term profitable operation…one that can be a sustainable business? I have talked to some who sense that these smallish indoor courses are faddish; in fact, a recent caller stated that he sold his course in the mall before the glow turned dark."

Now, let's consider the notion of cold weather play--the idea that you can minimize the seasonality of this outdoor attraction by bringing it inside. Our observations are that most people believe the opening of the local miniature golf to be another sign of summer. They look forward to getting outside to enjoy this family activity. Even the Beach Boys recognized this in their hit song "All Summer Long" when they sing "it won't be long till summers gone" and having fun playing in miniature golf will be over.

And in most communities, this fits the "rhythm of life" principle, the idea that there is a "right time" and when summer's gone, our focus turns to back to school activities.

Then, there is the "out of sight, out of mind" principle. The drive-by aspect of seeing the course, its own best billboard, is no longer an advantage. Those kids tugging on the shoulders of their parent(s) and reminding them of that promise to go back soon, doesn't work in its usual way. This typically visible destination has now gone undercover.

If these are obstacles, are there ways in which they can be overcome? Are there some advantages on which we can capitalize? Here are few considerations.

Consider making the miniature golf part of a facility that contains a greater variety of attractions and events. This can help make your place a memorable destination and allows you to overcome the "out of sight" problem. After all, what we really want is to be remembered as place to have fun. A recent conversation with the owner of a 32-lane bowling center turned FEC validated that point. Their small black light course has been a worthy addition to the center and serves as another profit center among six or seven other venues. He also noted that the target audience is children 12 and under. The owner, showing some concern for longevity, was pleased and noted that it paid for itself in the first year and is continuing to perform well. He suggested that if he had it for another three or four years he would consider an excellent and profitable use of space.

Memory can also be enhanced by creating a special kind of course, one that not only provides for interest play, but also provides a heightened level of entertainment. With indoor miniature golf course design, special effects elements can be more easily incorporated. With the weather element controlled, interactivity, mechanical devices, fog, sensors and sounds are readily available and less costly than when used outside.

And as one of a number of indoor activities, miniature golf can represent a perceived value because of the time it takes to play. The longer the customer is present, the more the will spend enjoying your facility.

Indoor courses as well as outdoor courses should still be designed for the demographic to which you wish to appeal. Certainly a course aimed at six year olds would be different than one designed for the entire family. And this might well be the case in an indoor fun center.

In summary, you are urged to recognize that indoor miniature golf and outdoor miniature golf may have very different audiences, and therefore should often be designed with this in mind. These golf course styles are not necessarily equivalent, and keeping that in mind will improve your chances of having a profitable revenue center in your miniature golf course.

Copyright: Burdette Bremer, 2006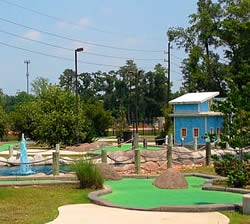 We've been open two months and the reception to our miniature golf course has exceeded our expectations . Our patrons have all been complimentary of the fairness of the holes, the course layout and the fun that they had. Much of the credit goes to Castle Golf in the quality of the work and the attention to details during the construction phase . Randy and his crew exhibited a genuine interest and pride in making sure the holes were according to plan and our wishes. We made several changes on-site during the early layout development and Castle Golf's suggestions helped improve the course.