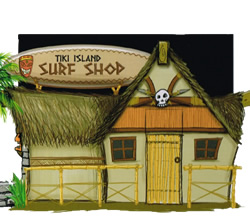 IS IT TIME FOR A REMODEL
Though it is virtually impossible to change your location (portable courses exempted) it is very possible and often desirable to change your existing course. Signs of a needed change are often easy to recognize. Here are just a few.

Often the signs are obvious such as:
Carpet that is worn and torn with separating seams and vanishing fibers.

Bricks and pavers that have been glued are coming loose and being moved.

There is a pattern of annoying and continuing maintenance issues; often related to your water system.

Declining revenue and attendance; some players even walk off the course.
Sometimes the signs are less apparent such as:

You sense that your course needs a new attitude; it's lost that WOW feeling.


Your staff is less enthusiastic about your once new and dynamic course.


Too many customer reviews on the internet are negative.


There are potential liability issues with tripping hazards and easily accessible water.


You are receiving few compliments and hearing more complaints from customers as the depart.

Levels of makeover and remodel for your miniature course
Having decided that the site is still viable you are faced with deciding how extensive should our remodel or make over be. Based on your analysis of the issues, you will find that some changes are critical, and others may be more of a luxury given your circumstances.

In some markets with limited budgets the most essential elements are a fresh face providing a new look that tells the public you care about their experience. This type of remodel would typically involve new carpet and replacement of curbs, refreshed landscape by pruning and new plantings, restoration of any decaying theme elements, new bridges and ropes, and improved lighting. As you can see, this is largely a matter of a new look based on extensive restoration without the addition of new elements.

In other larger markets with greater potential and competition for the family entertainment dollar, the remodel would extend to a real makeover; a fresh dose of excitement that might include new imagery and special effects. These might be in addition to the essential elements noted previously. Examples might include rebuilding old style golf course holes by adding elevations changes and new playing characteristics, new waterscape and rockscape are considerations, adding visual elements and replacing or restoring deteriorating structures with new, adding new sensory effects such as sound and LED lighting on the course, incorporating interactive elements. New technologies bring new possibilities.

Because each circumstance is unique, your approach to remodels and makeovers will have to fit your situation. And more than likely it will be some blending of the two levels we have discussed.

Two recent projects are described below to illustrate two types of remodel and makeover that were completed in the past year.

CASE 1. Extensive renovation of a large course in South Carolina
During 2012 the Godley brothers, operators of the highly regarded Frankie's Fun Parks in South Carolina, determined that it was time to make their 54 hole miniature golf course more exciting, improve playability, address some maintenance needs, and grow the revenue…a pretty comprehensive set of needs. Because the work was so extensive a site visit was arranged to do an analysis of the required work and develop a proposal to complete the desired makeover. What follows is a list of the additions and rebuilds:


Brick curbing was removed and replaced with Castle's steel reinforced PermaCurb system. These changes were coordinated with carpet replacement throughout.


Artificial, sculpted rock was added to pond edges, integrated into new hole curbing and then all given a fresh coat of "rock look" stain.


Several ponds and rivers were realigned to blend with a number of the rebuilt golf holes making them more playable and interesting.


All of the theme structures were replaced with new elements reflecting Coastal South Carolina such as the light house, harbor scene and a Charleston street view.


Bridges were given a new coat of preservative and painted as needed.


Wooden pole obstacles were replaced with artificial rock elements.


A number of selected holes were replaced with new and different hole styles through the course.


Overgrown plantings were removed and replaced with plants and fresh ground cover materials.


Deteriorating ropes and poles were replaced as needed for a fresh look.

CASE 2. Wahooz, Meridian ID
In the fall of 2017 Castle was asked to propose a plan for the rehab/redesign of a 25,000 SF miniature golf course at Wahooz Family Fun Center in Meridian ID.  The owners were adding a large addition to their arcade for corporate events which required the miniature golf course start and finish to be moved.  Nevertheless the course was old and tired, the holes flat without character and without the need for any strategy, and edged with loose bricks, carpet worn and loose, and lights that lacked relevancy.   Castle Golf made a site visit to determine the best strategy for creating a new start/ stop, and making use of our time on site to enhance golf hole play and reduce maintenance in other areas.  Upon assembling the information gathered on site, and using a view from Google Earth as a basis, we were able to propose a number of modifications. Here is what was done: Photos show before (left) and after (right).
Old vegetation and crushed rock were removed, though a few quality trees and shrubs were left in place.


Created a new water feature to an existing area of rockwork to enhance the view from the new developed corporate event area


A new mine scene was added at a key location to be seen from the passing freeway


Brick paver curbs were removed and as part of building new holes and modifying the existing holes, PermaCurbs were installed.


New T-boxes were fabricated and installed


Old carpet was replaced


Golf holes and waterscapes were enhanced with sculpted rock edges and putting obstacles that became part of a larger picture of golf hole playability enhancements.




About Castle Golf
For nearly forty years, Castle Golf has been the premier designer, builder and contractor of profitable miniature Golf courses
read more
Project Gallery
Browse through our project gallery. A show case of past and present miniature golf courses we have built.
view
Help U Build
Let Castle help u build your course.
read more