THE CASTLE GOLF PROCESS
The Process of Planning, Designing, and Building a Miniature Golf Course
COURSE STYLES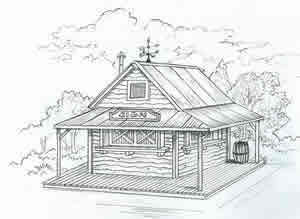 HOW TO BUILD A MINI GOLF COURSE
The formal design process at Castle Golf begins with the Retainer/Design Phase. This is a back and forth process between the client and Castle Golf. Considerations are given to style of play, hole characteristics, overall appearance and theme development if required. This process continues until we have reached a consensus on design and costs.

The mini golf course layout process typically takes about four to eight weeks depending upon size and complexity. Much of this time is simply the result of thinking through issues and exchanging ideas and information. All formal design work is done in AutoCAD.

Construction time on an 18-hole course, bumper boat lagoon and batting cage system would typically take about 12 to 14 weeks, though allowance may need to be made for weather. Final theme structure and special effects decisions and their associated complexities could also impact this time. Construction of other project elements such as a building should be going on simultaneously to provide a coordinated and predictable opening date.

Construction time on an 18-hole course alone is about 8 weeks.
Our approach, when considering a mini golf course layout, is to bring in our own project manager and crew. Our project managers have been with Castle Golf ten or more years. With this experience and the extensive design detail we deliver a high degree of quality and design/construction integrity to the project. We will bring our own crew for most work, though electrical (because of the local permitting/inspection process) and landscaping are commonly handled by local licensed contractors.



TYPICAL PROCESS:
CASTLE AND PROSPECT BEGIN CONVERSATION; CASTLE SENDS LITERATURE AND E-MAILS HELPFUL INFORMATION. QUESTIONS ARE ANSWERED, PROJECT GOALS ARE DISCUSSED AND CLARIFICATIONS OCCUR AS WE SEEK A HIGH LEVEL OF COMFORT.



CLIENT DECIDES TO USE CASTLE GOLF FOR MINIATURE GOLF COURSE DESIGN PLANS AND CONSTRUCTION.



CLIENT AND CASTLE GOLF ENTER INTO A RETAINER/ DESIGN AGREEMENT, THE FEE BASED ON THE MAGNITUDE OF THE PROJECT.



CLIENT AND CASTLE GOLF EXPLORE TARGET CUSTOMERS AND APPROPRIATE STYLES INCLUDING THEME, HOLE DESIGNS, ETC. CLIENT MAY SEND PHOTOS, POSTCARDS, ETC.; SOMETIMES THE CLIENT HAS A CASTLE REPRESENTATIVE VISIT THE SITE.



CLIENT SENDS SITE THE MINIATURE GOLF COURSE DESIGN PLANS, TOPO AND OTHER REQUIRED INFORMATION TO ALLOW THE DESIGN WORK TO PROCEED.



CASTLE GOLF BEGINS DEVELOPMENT OF LAYOUT AND PRELIMINARY PLAN.



CLIENT AND CASTLE GOLF REVIEW INITIAL PLAN BEFORE PROGRESSING FURTHER. THIS IS A CONCEPT PROCEDURE TO SEE IF WE ARE ON THE RIGHT TRACK.



A FINAL DESIGN LAYOUT READY FOR PRICING WILL BE ATTAINED AND THEN THE PROCESS OF DESIGN AND BUDGET RECONCILIATION TYPICALLY OCCURS.



UPON ARRIVING AT AN AGREEMENT ON DESIGN AND COST, CASTLE GOLF WILL PREPARE A CONSTRUCTION CONTRACT FOR CLIENT REVIEW, APPROVAL, AND DEPOSIT.



CASTLE GOLF DEVELOPS CONSTRUCTION DOCUMENTS AND ARRIVES ON SITE TO BEGIN CONSTRUCTION OF YOUR PROJECT.



WHILE WE ARE CONSTRUCTING THE PROJECT, THE AGREED UPON THEME STRUCTURES, PROPS, AND EFFECTS WILL BE FABRICATED AND DELIVERED TO THE SITE FOR INSTALLATION.



CONSTRUCTION IS COMPLETED AND PLAY BEGINS.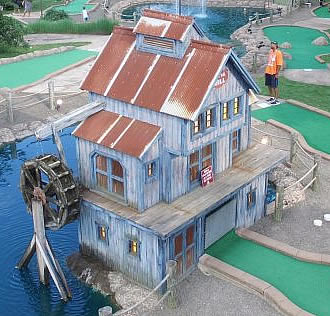 I am very pleased about this process and this company. Castle Golf has been everything they claimed to be and more. The construction crew made a lasting imporessi0on on this town – many people have commented on noticing the long hours and hard work they put in. Each stage of construction was done exactly as it was described – no surprises – and it turned out better than we imagined. We have had many (daily) comments about this course: "beautiful", "challenging", "delightful", "nicest course I've ever played", etc..