ARTICLES
FULL SENSORY EXPERICENCE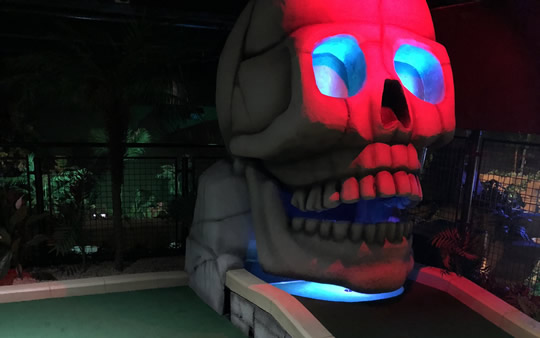 Family Fun and Entertainment Center Design: How to Create a Full Sensory Experience
Family fun and entertainment centers have a rich and storied history in the U.S. going back decades - but it's also important to understand that they're always evolving. The audiences of today are looking for something far more encompassing than they were in the past - you need to work hard to push the proverbial envelope as far as it will go and the design of your own center will play a big part in your ability to do that in a meaningful way.

This is why, when hiring a company for any type of construction project, you don't just need a design that meets expectations. You need a design that genuinely thrills people, giving them the type of full sensory experience that they won't be able to get enough of - or forget. This, of course, requires you to keep a few key things in mind
Never underestimate the importance of sound
One of the best ways to stimulate every last one of your visitor's senses is through the careful application of the right types of sounds. Take your average mini golf course, for example. In "the old days," you would hit the ball into the hole and a bell would ring. Now, according to the International Association of Amusement Parks and Attractions, more and more center operators are taking advantage of opportunities to make these elements a more immersive part of the environment.

In a dinosaur-themed mini golf course, that bell might now be replaced with the roar of a Tyrannosaurus Rex. Or on a pirate-themed course, it might be the sound of a ship filled with scoundrels who cheer players on.

These subtle-yet-important elements add up to an enveloping experience that makes people feel like they're a part of something far more than just a fun afternoon outing.


A break from the outside world
Speaking of immersion, it's important to understand exactly what you're trying to do before you settle on any particular design. You are trying to create an experience that is memorable and separate from the world outside your family fun and entertainment center. Every element - from the aforementioned sound to unique lighting to animatronics, games, the paint on the walls and more - needs to add up to something greater than the sum of the parts.

Most of the time, this requires you to first pick a theme, then let that theme dictate every other design choice you make. If your center features a jungle theme, everything about it - from those audio and visual elements to the floor layout, the types of attractions you include and even the color patterns you choose - need to support that idea.

If your center had an outer space theme, for example, naturally you would want to go for darker lighting to mimic the harsh, cold environment on a place like the moon. Neon wall paint could even be used to add to the effect. In that case, even the temperature would play a role in the full sensory experience - keeping things cooler could mimic the cold, harsh vastness of space.

Without that central theme to hold your entire design together, everything feels haphazard - like an afterthought. You're not trying to assault someone's senses by being as loud or as bright as possible. Anybody can do that, and that's not what customers are looking for anyway. They've given you an afternoon or an evening of their time because they want to be transported. They want to have an experience that they can't get in the comfort of their own homes. Your design is how you live up to that promise.


Your experience, our priority
At Castle Golf, we understand exactly what the customers who visit your family fun and entertainment center are looking for. That means we also know precisely what you need to remain competitive in a way that guarantees you'll offer the richest, most complete experience possible. With more than four decades of experience in the United States and around the world, we're proud to help create something truly unique and exciting that people won't be able to find anywhere else. To find out more information about family fun and entertainment center design, construction and pricing, or to get your free, no obligation consultation, please contact us today.
Industry Research
As opposed to market research, industry research applies to the miniature golf business in general. Of course, having an understanding of the business will help you succeed, but this is also a great place for you to get the ideas that will be an ideal fit with what you've learned from your market research. The example above, of the success adventure golf courses have had by appealing to a broader age range, comes from industry research. So get reading on all the trends and statistics specific to the industry. Even more fun on your planning to-do list is to get out there and visit as many mini-golf courses as possible. Take notes of what you like, what you don't, what appears to be successful, what looks like it needs work, and what makes the most sense to apply to your specific business, and your specific market.